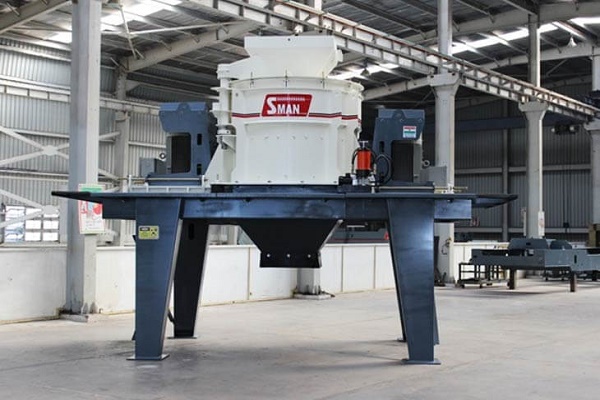 SMAN Vertical Shaft Impactor (VSI) Features  
Ready to use structure. Quick Installation, Immediate operation ( wheel mounted mobile option is also available )
Variable production capacity for tertiary stage material
Rock on technology ensures minimum operating costs along with least wear & tear.
Shape of output material is cubical & exellent for concreting
Low investment. Low downtime for replacement of parts & consumables.
V Easy retrofit option for conversion from rock on rock to rock on metal.
 HOW  "Vertical Shaft Impactor" (VSI)   WORKS 
The Machine Mechanism of vertical shaft impactor (VSI) is simplified. The material to be crushed is dropped on top chute & goes through material tube on to center of closed rotor. Material from rotor gets thrown with high centrifugal force as the rotor rotates on high rpm. when this material hits inside the Rock chamber assembly it gets shaped due to impact & depending on inertia of the material cubical shaped products falls freely due to gravity through the bottom chute.The natural way of impact & grinding of Rock on Rock results in shaping the particals like natural sand making it very close natural sand.
SIMPLIFIED RETRO FITMENT FROM ROCK ON ROCK TO ROCK ON METAL
Rock on Rock to Rock on metal version can easily converted of offering anvil Rings & Rocks. Chamber Combination which results in higher production yield. This simplified Retro fit can be easily & quickly installed on existing Rock on Rock model without changing the complete machine resulting in diffring products needs.
TERTIARY STAGE MACHINE SUITABLE FOR
 Ready-Mix Concrete
 Artificial Sand
 Asphalt Mix
 Base Material for Road Work